Club Monaco Cable Knit Hat | Warby Parker (WP) Edgeworth Whiskey Tortoise | WP Watts Newsprint Grey | Chamberlain Whiskey Tortoise | L.L. Bean Heritage Cable Knit Mittens | Little Liffner Tote (available at Club Monaco) | Engraved Christmas Coasters by DachshundDesignHouse | Pine Cones & Christmas Ball Ornaments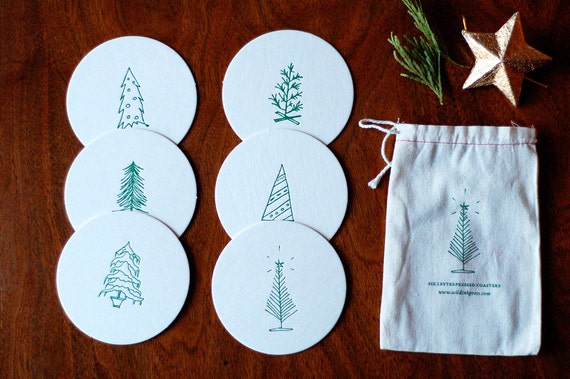 I didn't feel the effects of doing an intense barre workout and receiving a massage on the same day... until this morning, that is.  I have always been lithe and never struggled to do stretching exercises, and even during my barre session, doing them was not a problem.  Rather, the plie squats and subsequent ballet barre ball routine challenged me a bit.  I'm normally not one to carp about soreness either, but I am experiencing the physical aftermaths about 30 hours later.  Yesterday, on the other hand, I struggled mentally as I barely managed to stay alert the entire day.  Despite everything though, I somehow still woke up at 5 am for morning prayer.  The morning air feels much colder these days, so I can no longer leave the house in my Northwestern sweater and jeans.  I have no choice but to cover myself up in a long sleeve and wool cardigan.  Speaking of temperature drops, two important holidays are just weeks away!
We are officially 21 days short from scrambling for Thanksgiving dinner--albeit with a thankful heart--and already glowing with excitement from bringing out everything and anything related to Christmas.  OH, YES. We love Christmas. We love Winter.  Celebrating something so glorious atones for all the disappointments and sorrows the past year.  We essentially plan a feast in preparation for a king's reign--our heart and art of worship.  "Good eats with good company," as we would say.  Childhood memories of delectable food sitting on fine china from England and boisterous laughter ringing from every corner will forever remain embedded in my mind.
Now, whether you're traveling to a relative's to celebrate or hosting the dinner at your own home, you need some basic essentials.  And I want to share a few of my favorites with you: Christmas coasters (perfect for mugs of hot cocoa and apple cider), red ornament balls, pine cone decor, simple yet hip glasses, comfortable knit hat, warm mittens, and a tote to stow away leftover cookies (hehe).
I grow more ecstatic and giddy by the minute, thinking about merry festivities headed our way!  What are your Winter essentials?  Feel free to drop a note!
Until tomorrow...
LOVE, pristine christine