From now on, I'll be writing a writing a Throwback Thursday and Friday Fashion post every Thursday and Friday. Since I'm a little late on the #TBT post this week, I'll be combining #TBT and #FF today.  Let's start off with Throwback Thursday!  Whether you're a mother in her mid-40s/early 50s or a young adult in her early 20s, you will most likely recall threading bracelets with beads.  And hey, remember those beaded animal keychain kits that every kid wanted in elementary school?
Ladies, although beads made a comeback a few years ago, they now bombastically hang against the walls of every department store.  While it is true that beads are "in," let us not purchase every "cute" or "trendy" bracelet in sight.  Rather, adhere to the ABCs: All-matching, Basic, Classic.  My tip is, whenever you gravitate towards a product, ask yourself, "Does this match with something that I have?  Is this something disposable with changing trends?"  Unless it's absolutely beautiful or chic, then take a step back.  Using the ABCs, the type of bead bracelets that I would invest in comes from Marni.  Can you tell I'm a Marni loyalist?  I love the fact that Marni pieces speak.  They make a statement and bring life to your outfit––even to a simple round-neck shirt and a pair of vintage-washed jeans.  Thus, the handcrafted bracelets, completed by a ribbon end, add edge and character.  Marni's twist on color blocking, two-tones, and double-wraps is quite brilliant.  From an aerial glance, no one would have guessed that the bracelet is actually two layers! Moreover, the contrast between the translucent yellow and solid black aggrandizes the piece's appeal to a new level.
Another favorite wrist piece from Marni is a cocktail party approach to beads.  The wood-carved flowers and decorated stones are essentially the "beads" and scream, "Chic! Pop! Stare at me!"  The signature slik ribbon appears here, too.  Marni accessories normally average around $400 when they're not on sale.  You can either hold your breaths until sale season rolls around or close your eyes and lay out the money for one of them. OR if you're a talented shopper, visit some vintage/antique boutiques and browse for something similar.
Now, granted that today is Friday (TGIF, anyone?), you may or may not be going out with your loved one(s) or friends tonight.  Regardless, when Friday come around, again, you can think of Friday Fashion's post about neon.  Have some fun with neon colors and faux crystals! Just because fashionistas don some funky neon pants or shirts does not mean you have to comply with such ostentatiousness. Be different and focus on your wrists with the hipness below.  *Note: I am not associated with the Etsy seller in any way.*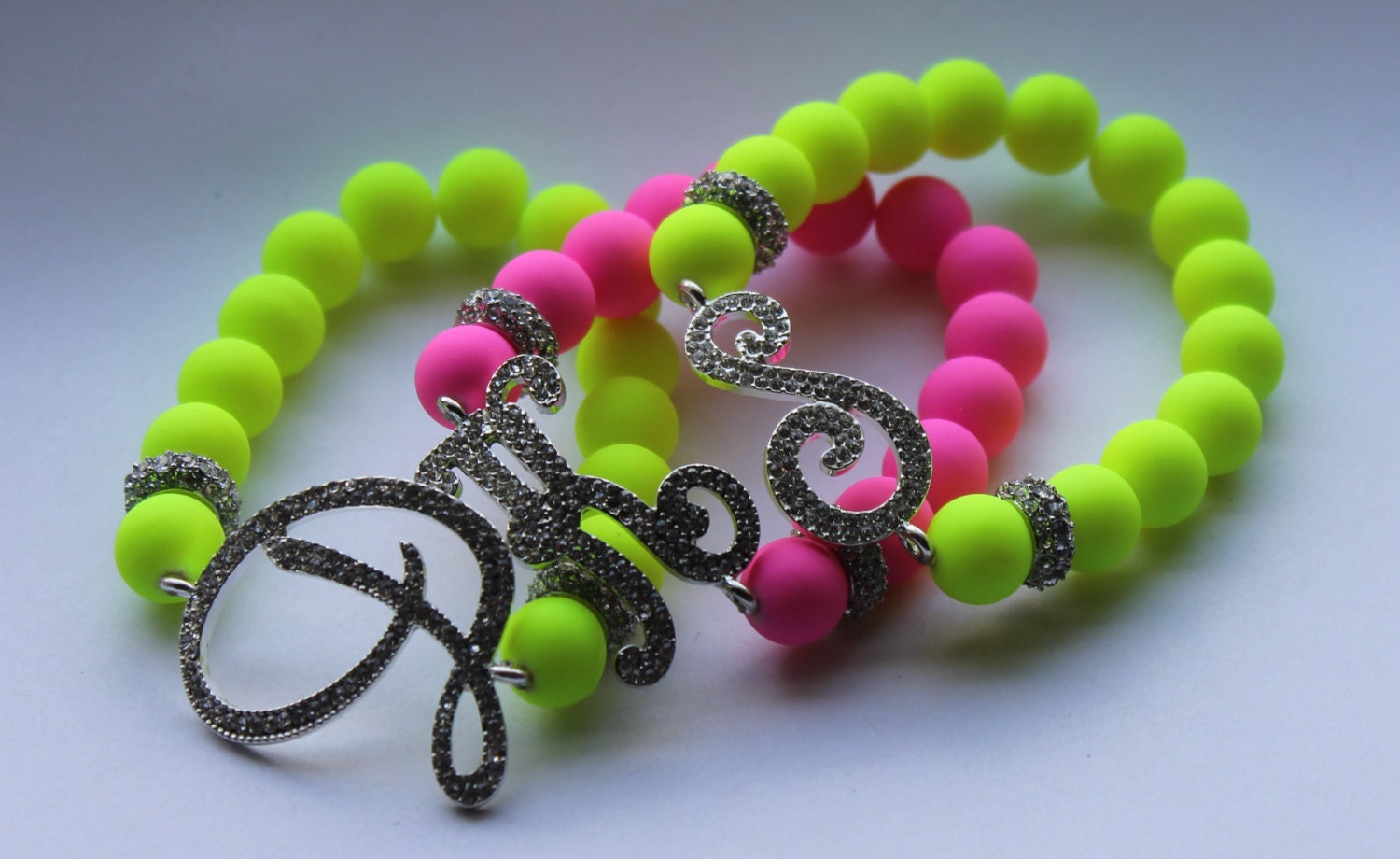 Speaking of neon and throwbacks, Korean pop group Koyote recently returned to the music scene with the song "Hollywood."  Disco balls, fanny packs, side ponytails... their music video has everything.  Enjoy your Friday, everyone!  As for me, I'll be relaxing until tomorrow's baseball game outing with the fambam.
[youtube=http://www.youtube.com/watch?v=9tjAuB9NDy0&w=560&h=315]