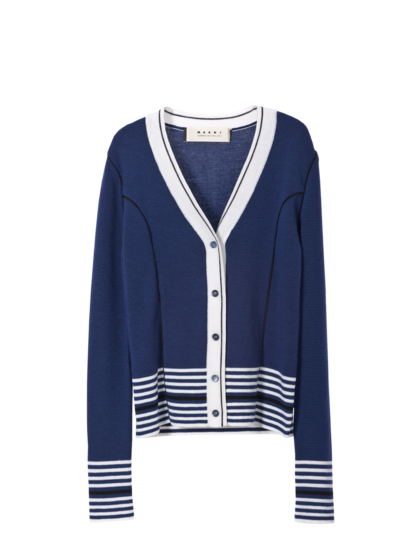 (Marni cardigan)
(Aquatalia booties by Marvin K., made in Italy)
Well, hello, pre-fall.  It's rather funny to think about prepping for the fall already.  For all the fashionistas out there, the name Garance may ring a bell.  She once posted an entry on how the top designer lines (Celine, Marni, Vince, Chanel, Yves Saint Laurent, Ferragamo, Fendi, Chloe, Pucci, Gucci, Roberto Cavalli, Mulberry, Dior, Burberry, Bally, Balenciaga...okay, you get my point) release the coming season's collection during the preceding season.  According to her, mainstream companies seem to know consumer needs by actually merchandising summer clothes in the summer rather than fall and winter clothing in the heat.
Until this past weekend, I always held the same notion albeit my mom, the fashion expert, prepared and educated me every year of this slightly strange tactic.  But the more I embark on these exciting adventures, browsing through various items of high-end stores, with my mom, I acquire a keener eye and am able to design outfits in my head.  In some sense, I was born with some artistic knack, and maybe such variable affects the overall equation.  And as silly as the next sentence may sound, those internationally renowned designers are brilliant.  Inspiration for proceeding seasons or years does not materialize with a magic wand.  One needs time, wads of paper, cases of pens and pencils, and responses from the crowd.
There's a reason why they're the best.
Somehow, shopping for the fall led to the aforementioned.  Last week and this past weekend, my mother pampered me... yet, again...! What good would it be to not share a few of the goodies my parents have graced me with?  An envied Marni sweater cardigan and Italian booties worn by Kate Middleton.  Come to think of it, her Royal Highness and I share a few of the same pieces.
Well, the shadows of darkened skies are slowly lulling me to sleep with Cinderella's alarm about to ring.  9 months of nearly no sleep and typing away furiously for classes have left me cuddling in bed by midnight and seizing a new day 6.5 hours past.
May these new booties carry me to wonderful places for however long I may wear them.  Cheers to you. A toast to the beginnings of a college senior facing recruitment from fall to spring.  Huzzah, huzzah.